CNC Machined / USA Manufactured Savage 110 Replacement Triggers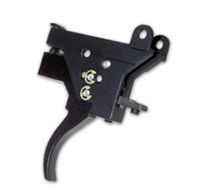 Rifle Basix currently manufactures high quality aftermarket replacement triggers for the Savage 110 rifle as well as the Edge/Axis rifle. We are currently the only manufacturer that offers a varmint / target type trigger for the 110.
Important Savage 110 Points in History
Currently the oldest continuously produced bolt-action rifle in America.
The 110 was named because of its original retail price of $109.95.
The 110 was the first ever left-handed bolt commercially sold.
In 98 new numbering brought about the Model 10 for the short action and the Model 110 for the long action.
The Savage Model 110 was originally designed for the hunting market, carrying the traits of strong, powerful and economical.
Rifle Basix Currently Carries the Following Triggers for the Savage 110
Available Colors:
Installation:
AccuTrigger™
Prior to 2003 many believed the Savage 110 trigger has a substandard design issue. In 2003 Savage introduced the AccuTrigger™ which provided a more adjustable trigger. This allowed for weight of pull adjustments between 1.5lbs-6lbs. We sell triggers for both the standard and AccuTrigger™.