CVA CASCADE Series Replacement Triggers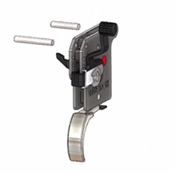 Rifle Basix currently manufactures high quality aftermarket / replacement triggers for the CVA Cascade series bolt action rifle. Note, this is the same aftermarket trigger used in the Remington 700 Series. This rifle uses the same trigger design. Browse our inventory.
We have multiple trigger options for a wide range of pull weights

from 1.5lbs to 4 lbs (L-1K Kit) – Hunting
from 10oz – 12oz (LV-1K Kit) – Varmint
from 4oz – 20oz (ERV-3K Kit) – Varmint / Target
from 2oz – 6oz (L-3K Kit) – Target

We offer different trigger colors:

available in black
available in silver

Instructions and Hardware Pack

All our replacement triggers come with complete instructions as well as a hardware pack that includes tools for installation

High Quality Materials

Our CVA Cascade aftermarket / upgraded triggers feature a CNC machined housing made of billet aluminium
they are also black anodized if you purchase the black version
The trigger is steel cast and cnc machined for a perfect fit
If you have any questions related to finding the correct trigger for your application or need, you can
reach out to us here
. We'd be more than happy to help.