CNC Machined / USA Manufactured Model 700 Replacement Triggers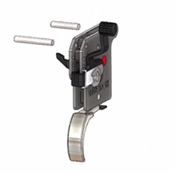 Since 1990 Rifle Basix has manufactured and specialized in aftermarket / replacement triggers for the Remington Model 700 Rifle. It's one of our most popular rifle triggers sold to date. Our Model 700 replacement trigger has quite a few benefits listed below. Choose a Trigger or Browse our inventory.
We have multiple trigger options for a wide range of pull weights

from 1.5lbs to 4 lbs (L-1K Kit) – Hunting
from 10oz – 12oz (LV-1K Kit) – Varmint
from 4oz – 20oz (ERV-3K Kit) – Varmint / Target
from 2oz – 6oz (L-3K Kit) – Target

We offer different Trigger Colors:

available in black
available in silver

Instructions and Hardware Pack

All our remington model 700 triggers come with a complete instructions and an available video here: https://www.youtube.com/watch?v=Zvyw9VYO14o as well as a hardware pack that includes tools for installation completion

X-Mark Pro Trigger Support

We do carry aftermarket triggers that replace the Remington Model 700 X-Mark Pro trigger. You need to purchase one of our Kits.

High Quality Materials

Our remington model 700 trigger features a CNC machined housing made of billet aluminium
they are also black anodized if you purchase the black version
The trigger is steel cast and cnc machined for a perfect fit
If you have a hard time finding the proper Remington Model 700 replacement trigger you can
reach out to us
. We'd be more than happy to help.